Welcome to Honkey Donkey Caricatures.

We provide hand-drawn caricatures from your photographs. Our unique caricature portraits make the perfect presents with a personal touch.

Ideal gifts for any occasion, birthdays, Christmas, weddings, anniversaries, leaving presents, retirement, thank you gifts.

We also specialise in corporate caricatures for businesses large and small, providing individual commissions that include your desired specifications.
Fancy a picture with all of your mates or work colleagues on? Take a look.

View some of our sport themed caricatures.

Getting married? Have a look at how we might help or get some ideas for your big day.

Want to fill the workplace with fun all year? Order some of our caricatures to make your own calendar.

For hand-drawn originals the prices are exceptional.

If you have any questions or queries email us: honkthedonk@hotmail.com


King of the BBQ!
A4 Colour Full Body


Family Caricature
A3 Black and White Full Body

Just find a few good smiley photos of the person is all we need.


Couple in Love Caricature
A3 Colour Full Body


Have you left it until the last minute? We usually like 2-3 weeks but we can draw them within a week. Email us to see if we can fit you in.


Cigar Caricature
A4 Colour Full Body

You name it and HonkeyDonkey can draw it for you.


Soldier Caricature
A4 Black and White Full Body with caption and rat!


Whether it is a leaving present or if you want to brighten up your workplace group caricatures are great fun. Discounts are available for group caricatures, e-mail us with your requests.


Motorbike Caricature
A3 Colour Full Body for a business Christmas card

<![if !supportMisalignedColumns]>
<![endif]>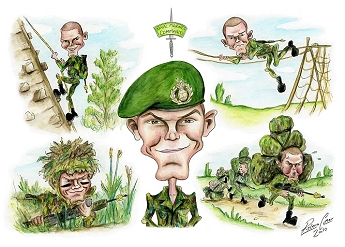 Marine Caricature
5-in-1 Colour Caricature
Hobbies Caricature
5-in-1 Colour Caricature
Why get just one caricature when you can have 5-in-1! These combination caricatures are great because you can include all the different hobbies in one drawing. Just email us for a quote.
Click here for more examples on the gallery page. Or see the Forces page for more military drawings.
Signature Caricatures are a great addition to anyone's wedding day (or as a leaving present). All the guests can sign their names, making a fantastic memento of their big day!
Whether you would like a caricature for your invitations, gifts for the bridesmaids and ushers, or anniversary presents, we can help.

Wedding Caricature
A3 Colour Head and Shoulders with caption
caricatures, caricatures, caricatures, caricatures, caricatures, caricatures,caricatured, caricaturist, gifts, gifts, gifts, gifts, giftscaricatures, caricatures, caricatures, caricatures, caricatures, caricatures, gifts, gifts, gifts, gifts, gifts